ZZR, LLC provides the most thorough and up-to-date training available for workers involved in the mining industry, from the simplest safety meeting to the most technical comprehensive training. Our classroom training and customized on-site field training classes meet and exceed MSHA requirements and are taught by a team of experienced Certified Mine Safety Professionals. The instructional materials, from concept to delivery, are produced in-house and are available in printed form as well as VHS, CD, DVD and Computer Based Training Programs. Our team has taught over 10,000 people from all over the United States, as well as Singapore, Malaysia, Thailand, Taiwan, New Zealand, Australia and Japan. We look forward to working with you in achieving your safety training goals!
September 2023 Classes
9/5/2023 New Miner A
9/6/2023 New Miner B
9/7/2023 New Miner C
9/18/2023 Annual Refresher
9/19/2023 New Miner A
9/20/2023 New Miner B
9/21/2023 New Miner C
October 2023 Classes
10/2/2023 Annual Refresher
10/3/2023 New Miner A
10/4/2023 New Miner B
10/5/2023 New Miner C
10/16/2023 Annual Refresher
10/17/2023 New Miner A
10/18/2023 New Miner B
10/19/2023 New Miner C
---
Online Classes Notice
We have expanded our online training/distance learning schedule to offer additional opportunities for your company to complete MSHA required training. Please see the schedule for our regularly scheduled classes. As always, our classes are taught by MSHA approved instructors and are live classes and completely interactive between the instructor and the participants. Participants may attend the class online from any location (home, office, hotel, etc) which eliminates the need to bring participants together for a class. The only requirement will be high-speed internet access. Our classes meet the requirements of Part 46, Part 48 A and Part 48 B. The cost for our online/virtual classes is $145 per person per day.
**As a reminder, we have the capability to set up virtual/online training classes for you and customize those as needed per your request. We can cover your company policies, new guidelines, changes at the mine and things of that nature as needed. If you are in need of these type of classes, please contact me and I will be happy to provide a customized training quote for you.
---
Safety Meeting Videos
The safety meeting videos make training your personnel easy and cost effective. The topics are all mining related. Each safety meeting video comes complete with instructor guide, quiz and sign in sheet. The following is a partial list of safety meeting videos:
Attitude
Blasting
Battery Safety
Fire Extinguishers
Heat Hazards
Oxygen/Acetylene Safety
Pre-shift Inspection
Workplace Inspection
Task Training Series
ZZR has developed a series of task training videos with accompanying employee handbooks for specific tasks in the mining industry, which when used properly by a competent person will help a mining company meet the MSHA 30 CFR Part 46 requirements for task training. Each task training series gives the instructor the basic information needed to instruct the mine employee on a particular task and also gives information on other jobs that may be considered closely related to the task or that companies may consider part of the original task. The following is a partial list of the task training series:
Haul Truck Operator
Front End Loader Operator
General Laborer
Backhoe/Excavator Operator
Maintenance/Welder/Machine Person
Computer Based Training
The computer based training program is a self-paced interactive learning tool. It presents information and tests knowledge about a particular subject. Progression and successful completion of each course are determined by the appropriate response entered for each question. The following is a partial list of our computer-based training:
HazCom
What Would You Do?
Conveyor Safety
Escape From A Fire
Hazard Recognition
---
Customized Training
ZZR offers customized, on-site training. We work one on one with companies to customize training to meet individual training needs. The following is a partial list of our customized training:
New Miner Training
Annual Refresher Training
Crane Training
Confined Space
Conveyor Safety
Defensive Operator
National Safety Council Defensive Driving
Plant Maintenance Electrical Training
Train-the-Trainer (Competent Person)
Equipment Train-the-Trainer
Training Programs
ZZR offers several training programs that you would need to complete your training classes. The training programs are self contained including videos (or DVDs), class outlines, instructor training guide, quizzes and training certificates.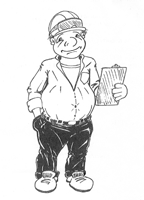 Printed Materials
ZZR offers printed materials to supplement your training. Currently, we offer Annual Refresher Training Books, New Miner First Day Training Books and Task Training Books on the following tasks:
Haul Truck Operator
Front End Loader Operator
General Laborer
Backhoe/Excavator Operator
Maintenance/Welder/Machine Person